Most every blogger adds links to their posts at least occasionally. Many do it almost every time they write. Links are terrific. They can provide readers with in-depth information about the blogger's topic, cite sources, or just open the door to meeting new friends. All sorts of good.
Here's the thing, though. I'm happy to send you to meet my friends, but after your visit, I really want you to come back to my place and hang out some more. I like you and I don't want to lose you. My guess is that you feel the same way about
your
readers.
Have you noticed that sometimes when you click on a link, the page you're on changes to the place the link sent you while other times, a new tab or page opens up? That distinction matters. It matters a lot.
If you set up your links so that when your reader clicks, the page they're on (your page!) is replaced by the new one, you just lost them. You don't want that. Sure, they might click their back button to revisit you when they're done checking out the place you sent them, but they might not. They might get distracted or become so enthralled with the fabulous new destination that they plumb forget they were at your place just a few minutes before.
You really don't want that.
When you add links to your blog posts, you want to code them so the destination site is opened in a new tab or window. Done that way, your reader will click, head off to wherever you sent them, read, and when they x-out of that page, they're right back where they started, reading your utterly brilliant post. Much better, right?
You can tweak your html code so that you can keep your readers. It's easy! I'll show you how.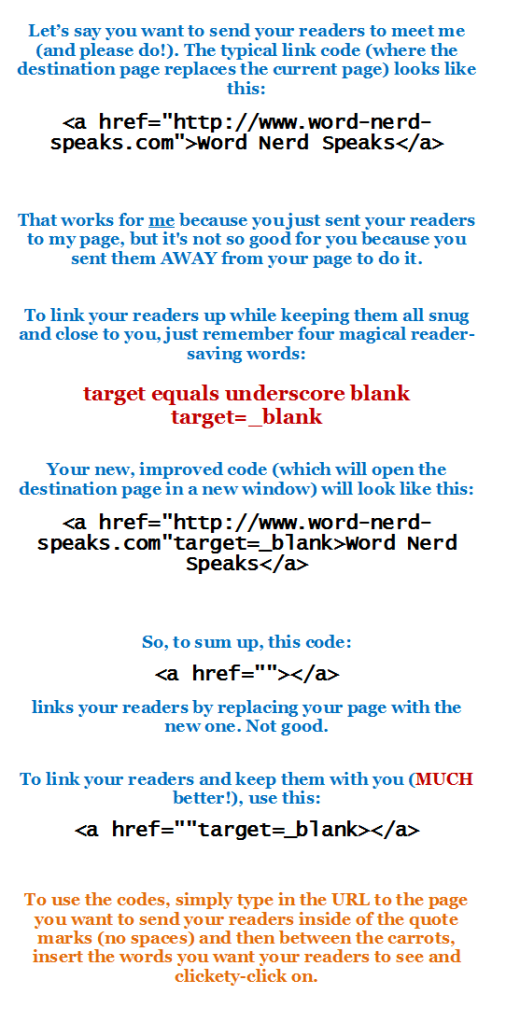 Easy-peasy-lemon squeezy, right? Oh, and you can edit the code for buttons and other stuff you might add to your blog, too. Add the four magical words and keep your readers!
~*~*~*~*~*~*~*~*~

I'm blogging my way from A-Z. Please check out some of the other A-Z'ers.

One blog every day, that's all you have to do: NaBloPoMo

One more thing: You wouldn't like it if someone stole your words, so please don't steal the work of photographers and graphic artists to provide images for your blog.

~*~*~*~*~*~*~*~*~